Aluminium anodic oxidation since 1964
Aluminium anodic oxidation since 1964
Aluminium anodic oxidation since 1964
QUALITY
For Oxidal Bagno quality is synonymous with control. The entire production process is in fact recorded digitally so as to allow the job to be traced at every processing stage.
Within the plant, there is also a chemical laboratory which constantly analyses the baths and performs all tests required by the QUALANOD quality label that is issued by QUALITAL.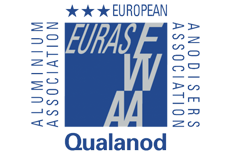 weight loss according to standard ISO 3210;
drop test (Scott method) according to standard ISO 2143;
"induced currents" method according to standard ISO 2360;
thickness test with digital devices;
colour shade test performed on tanks during oxidation and packaging.
An all-round quality control system that concludes with testing the finished item so as to provide - on request - a quality certificate for the individual order.

REQUEST INFO
or A QUOTE
without commitment
Oxidal Bagno s.r.l.
Via De Amicis 46 - 20092
Cinisello Balsamo - Milano
T: +39 02.6111911
F: +39 02.611191339
C.F.: 00816860159 - P.I.: 00695360966 - Registro delle Imprese: 00816860159 Milano - REA: MI-670375 - capitale sociale 51.480,00€