Aluminium anodic oxidation since 1964
Aluminium anodic oxidation since 1964
Aluminium anodic oxidation since 1964
ANODIC OXIDATION
Anodic oxidation is a treatment that, by converting the surface layer of aluminium into oxide, protects the metal from corrosion caused by weathering.

Two different functions that make aluminium anodising a common treatment in the construction industry, but one that is also becoming increasingly widespread in the field of interior design, lighting, transport, etc.

The anodic oxidation process implemented by Oxidal Bagno involves 4 different steps: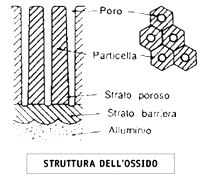 ANODIZING WITH SULFURIC ACID
Oxidal Bagno performs anodizing using sulfuric acid, the most used type of anodizing for aluminum in architectural buildings. The treatment consists of dipping the material in a tank containing a sulfuric acid solution connected to the positive pole (anode) of a suitable source of direct current. Oxidal Bagno has facilities with tanks of 10.50 meters and 2 meters length. The company is unique in Italy and figures among the largest in Europe.
Oxidal Bagno can perform anodizing treatments with a thickness from 5 to 25 microns using standard finishes and several colors with shiny metallic effects, like-steel, titanium, steel and mocha.

REQUEST INFO
or A QUOTE
without commitment
Oxidal Bagno s.r.l.
Via De Amicis 46 - 20092
Cinisello Balsamo - Milano
T: +39 02.6111911
F: +39 02.611191339
C.F.: 00816860159 - P.I.: 00695360966 - Registro delle Imprese: 00816860159 Milano - REA: MI-670375 - capitale sociale 51.480,00€